Motor Speed Control Cards
Instech's motor control circuit cards regulate the speed of small DC permanent-magnet brush motors, such as those used in our miniature peristaltic pumps. Two cards covers a range of motors up to 24V at 0.2A.

These small boards are easy to integrate into a larger system; in the simplest configuration they require only an external potentiometer for speed control, a single power supply, and a motor.
Features
Precise bi-directional speed control - Without a speed controller, your motor may slow significantly when a load is placed on it during operation (see chart below). With a speed controller, you set the motor speed with a control voltage, and it holds that speed constant over a wide range of torque. The speed control will also cause your motor to start predictably at low speeds.
Pseudo-tachometer feedback circuit - All of Instech's control cards feature a fast feedback circuit which extracts the back EMF of the motor to regulate its speed. The circuit does not require a tachometer or encoder; it uses only two motor wires.
Active braking - Setting the control voltage to zero will cause the controller to drive the motor in the opposite direction, bringing it to a stop much faster than if the power were simply turned off. It will also actively prevent the motor from turning once it has stopped.
All analog design for low EMI.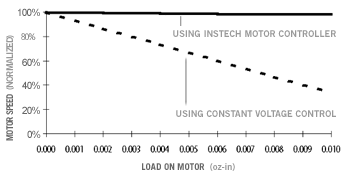 Instech's motor control circuitry works only with permanent-magnet DC brush motors.
The prices below apply to quantites of 1-4 pieces. For pricing at higher quantities, please contact Instech.
U.S. Pricing
| | | |
| --- | --- | --- |
| Model | Name | Price |
| MC50 | Control card for PMDC motors, 50 mA | $107 / each |
| MC200 | Control card for PMDC motors, 200 mA | $148 / each |
Download

motor control cards information [PDF]