OrchesTA Model 500 Ambulatory Pump
Weighing only 180g, the OrchesTA model 500 pump (formerly known as Pegasus) is one of the most versatile pumps for ambulatory animal infusion. The peristaltic mechanism uses cost-efficient tube sets to deliver 0.1-100 ml/hr pulling from drug bags ranging from 50 to 300ml. The pumps are typically placed in the pocket of a Lomir jacket and the drug bag can be protected in a box.
Connect the model 500 pump with a cable to an OrchesTA pump transceiver to control and monitor your infusion study remotely using OrchesTA Infusion Automation software — limit human interaction with the animals, automate repetitive tasks and reduce the opportunities for programming and documentation errors.

For more information download the PDF below and contact Instech for a demonstration. The OrchesTA version of this pump is not approved for human use.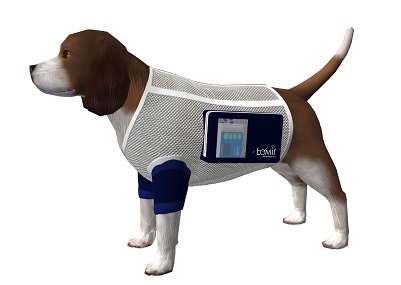 U.S. Pricing
| | | |
| --- | --- | --- |
| Model | Name | Price |
| OR-500-0001 | OrchesTA model 500 peristaltic pump (PEGA LAB 40040-E; 0.1-100ml/hr) | $3536 / each |
| OR-500-1000 | OrchesTA model 500 peristaltic pump tube (PEGA tube 10255) | $107 / box of 10 |
| OR-500-1205 | OrchesTA model 500 drug bag, PVC, 50mL (PEGA bag 14050) | $107 / box of 10 |
| OR-500-1210 | OrchesTA model 500 drug bag, PVC, 100mL (PEGA bag 14100) | $107 / box of 10 |
| OR-500-1215 | OrchesTA model 500 drug bag, PVC, 150mL (PEGA bag 14150) | $107 / box of 10 |
| OR-500-1230 | OrchesTA model 500 drug bag, PVC, 300mL (PEGA bag 14300) | $107 / box of 10 |
| OR-500-1405 | OrchesTA model 500 plastic box for 50ml drug bag (PEGA box 10405) | $107 / box of 10 |
| OR-500-1410 | OrchesTA model 500 plastic box for 100ml drug bag (PEGA box 10410) | $107 / box of 10 |
| OR-500-1415 | OrchesTA model 500 plastic box for 150ml drug bag (PEGA box 10415) | $107 / box of 10 |
Download

OrchesTA Infusion Automation System information [PDF]